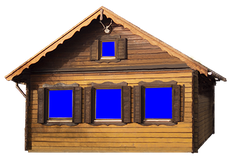 Studio Huette goes Kunsthalle(n) Toggenburg 
"Huette auf Wanderschaft" at "Freie Republik Bad Hemberg"
 September 2020
first Artist in Residence at Studio Huette Sommer 2020
Verena Unruh Streu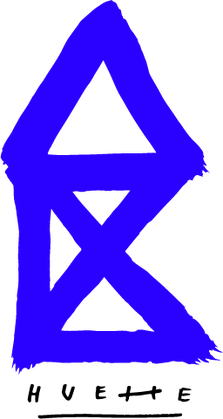 In the year following the first large group exhibition, much has happened in and around the Huette. From this bustling time of experimenting with place and people, the "Sammlung Huette" emerged as a manifested climax of organic activity. The format surprised and convinced us. Thus a two-day program was realized with a wide range of artistic media (installation, new media, music, performance, reading, 30 min solo exhibition, poetry, books), meaningful interspaces and various social rituals (tasting, dance, lottery, snail race). The Huette turned out to be a stage for an active audience, the format created an intimate as well as constructive atmosphere to meet each other. Through a concrete yet open conception of the program, the fluid activity on scene could be sensitively followed over the two days, while at the same time metting the high demands of artistic professionalism. What is special, as well as symptomatic, is precisely this intimate and open space, in which a "prejudice-free", "personal" and "meaningful" contact/exchange/encounter between all participants in such a group process can be cultivated.
Artists 
Maria Kobylenko, Stefan Klein, Gaspar Scholl Chafirovitch, Fred Unruh, Jonas Heyn, Moritz Zeisner, Martin Haug, Cleo Schrieb, Grenadine Ruebler, Lisa-Maria Steppacher, Dilan Capan, Noell Simon, Julianna Johnston, Madeleine Brunnmeier, Maria Tristan, Federico Torres, Moritz Schmolke, Gabriel Rosenbach, Diego Wichert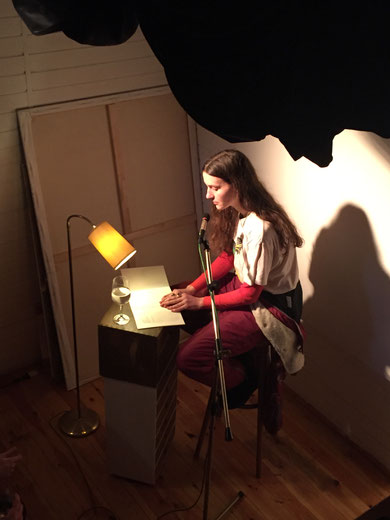 Grenadine Ruebler reading "Ach Arachne"
                             Sammlung Huette 2020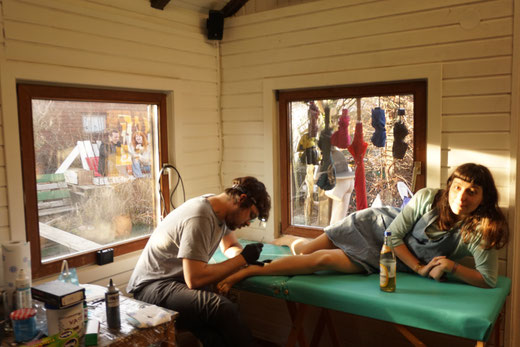 Noel Simon Tattoo Artist, Sammlung Huette 2020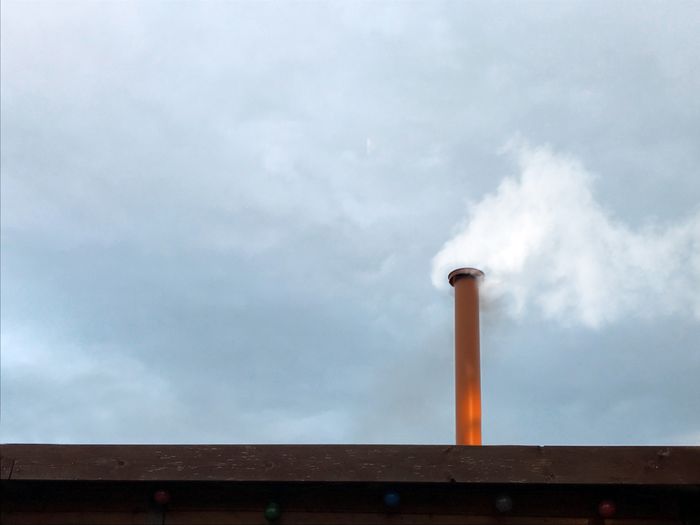 Fred Unruh Installation "Wir sind Papst", Sammlung Huette 2020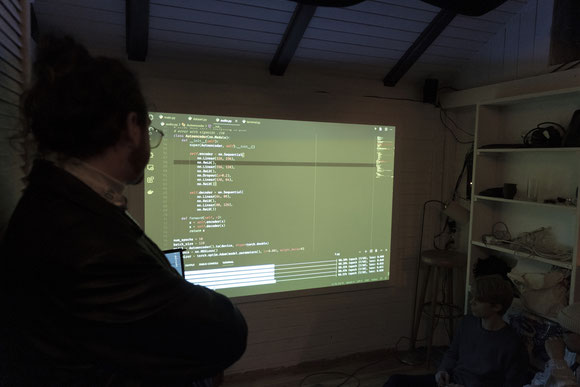 Moritz Zeisner, Martin Haug Sound & Video Installation
          "searching for new noise" Sammlung Huette 2020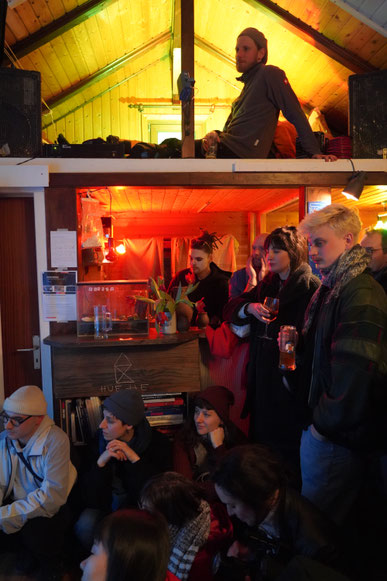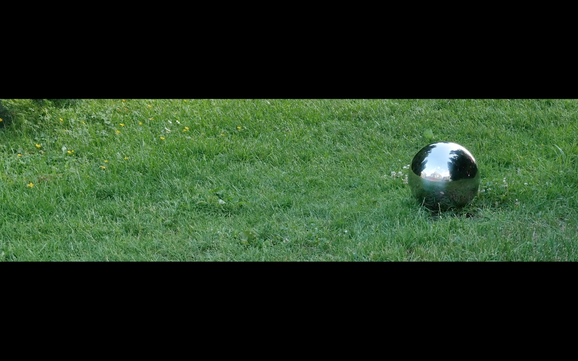 Anan Yoon Lee "High Dynamic Range Planetary Rendering"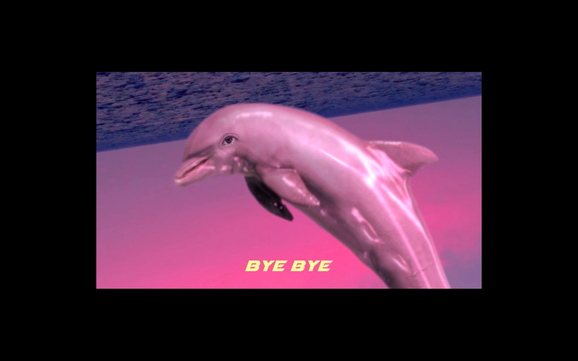 Jan Matysek "Polyethelyne Terephthalate"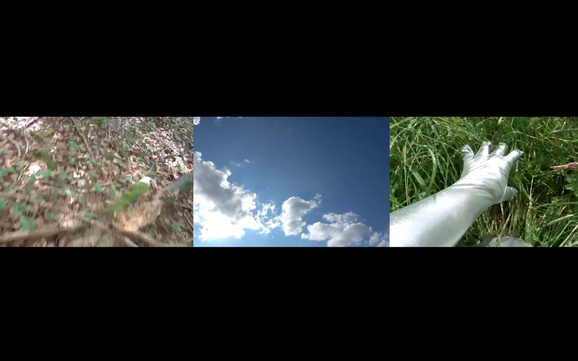 Julianna Johnston "Livestream D'erive" Sammlung Huette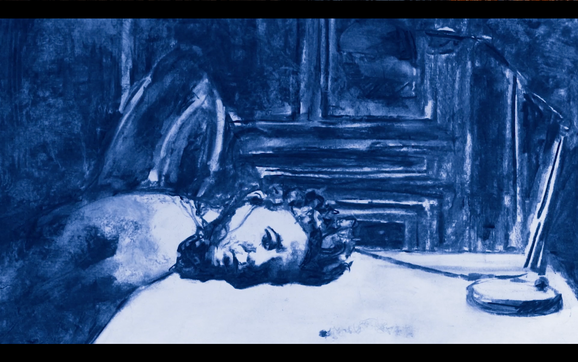 Madeleine Brunnmeier "Poem about Death"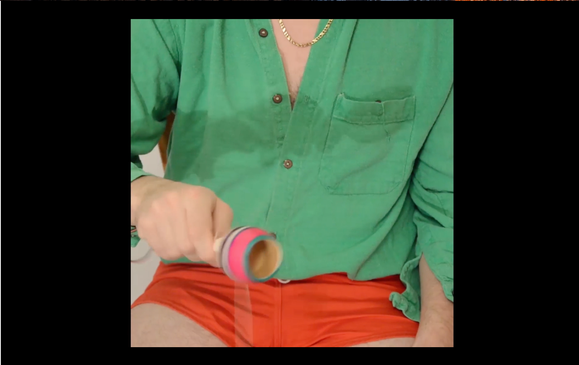 Moritz Schmolke "the Game" Sammlung Huette
Maira Tristao "who bosses the womb"
       Film Screening with Anna Moon Lee, Madeleine Brunnmeier,     Jan Matysek, Julianna Johnston, Moritz Schmolke,
Sammlung Huette 2020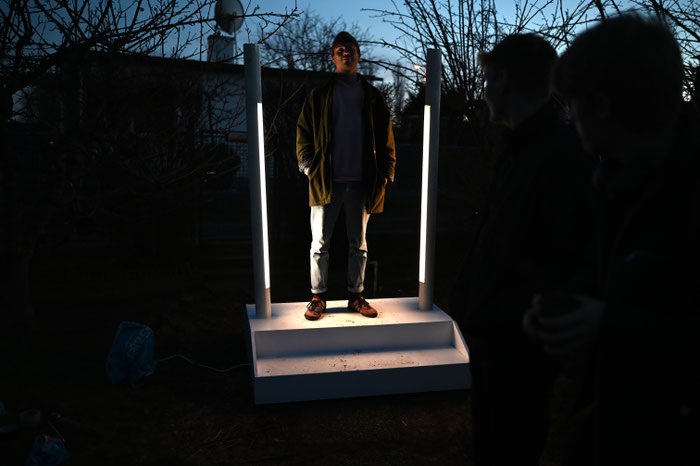 Installation by Gaspar Scholl-Chafirovitch "new Gate" 
Sammlung Huette 2020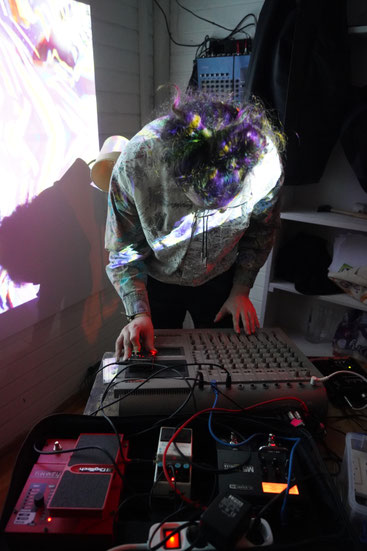 Sound & Video Performance by Maria Koblyenko, Jonas Heyn 
Sammlung Huette 2020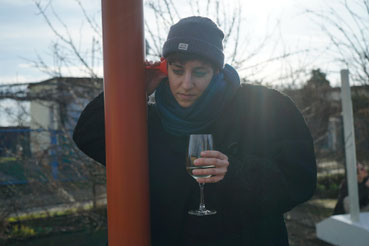 Lisa-Maria Steppacher Installation "Hörst du Fr.Holle?"
Sammlung Huette 2020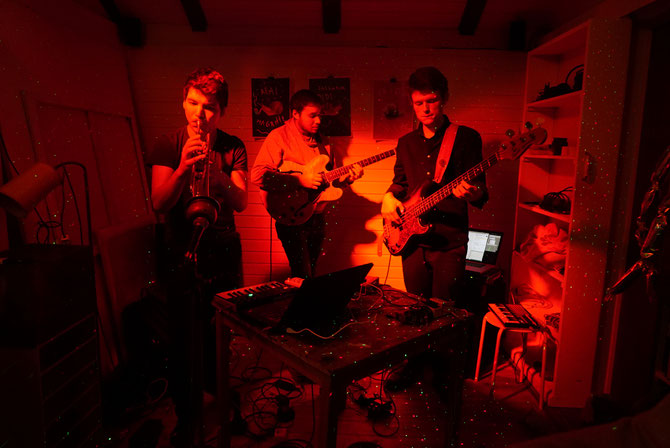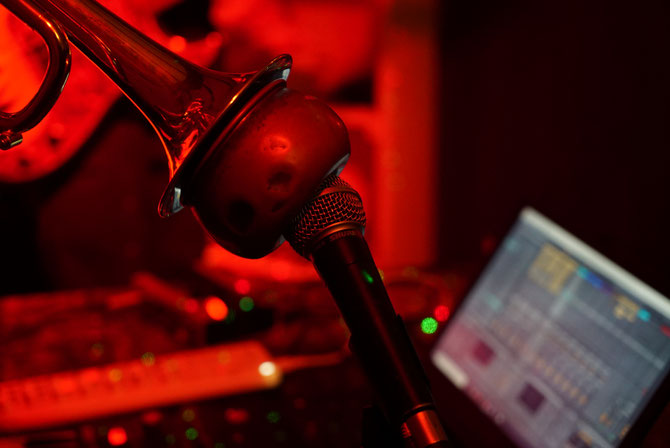 Experimental Jazz Concert by Moritz Schmolke, Gabriel Rosenbach & Diego Wichert,  Sammlung Huette 2020
Das Format der 30 minütigen Solo Ausstellung. 
Die Zeitlich limitiere, intensive Auseinandersetzung mit einem Werk. 
Anders als gewohnt hängt die Arbeit nur für einen Augenblick, somit werden die Betrachter aufgefordert sich Intensiv mit dem gesehenen zu befassen. 
Gemeinsam in einer überschaubaren Gruppe etwas zu betrachten bringt eine besondere intime Atmosphäre mit sich.
Bei der Präsentation geht es nicht unbedingt darum ein bereits fertiges Werk zu präsentieren. Auch Experimente oder Work in Progress Beiträge sind gerne gesehen. Dem Trubel einer gewöhnlichen Eröffnung entgegenwirken. 
Der Ausstellenden Künstler wird darum gebeten einen kleinen Kreis an Personen einzuladen. Im Anschluss gibt es ein Künstler Gespräch verknüpft mit einem Dinner. Eine entschleunigte Eröffnung und freudiges beisammen sein. 
Artists: Jakob Tress, Ferdinand Döllberg, Kevin Lüdicke, Björn Heyn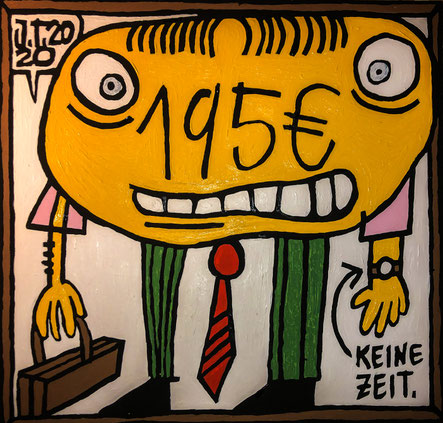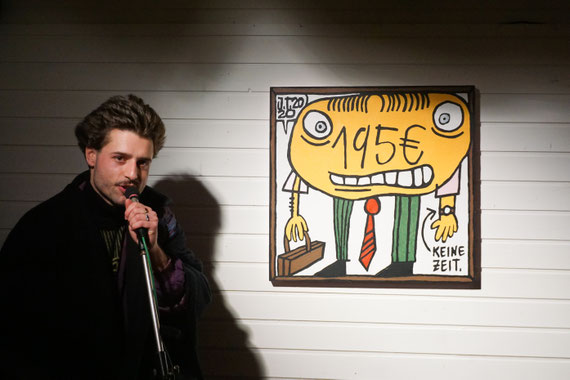 30 Minuten Solo von Jakob Tress
                        "Smiley: Gefangen im Leitungsdruck der Erwerbstätigkeit"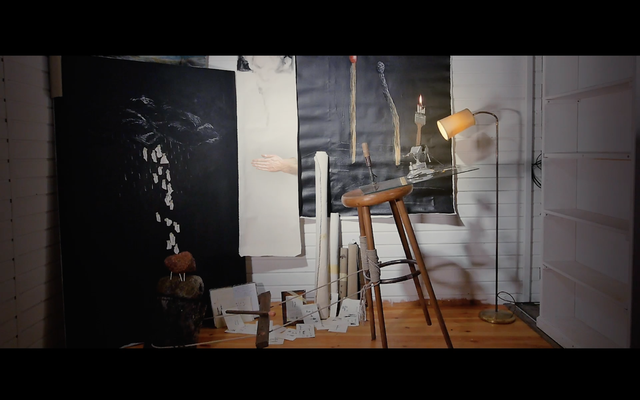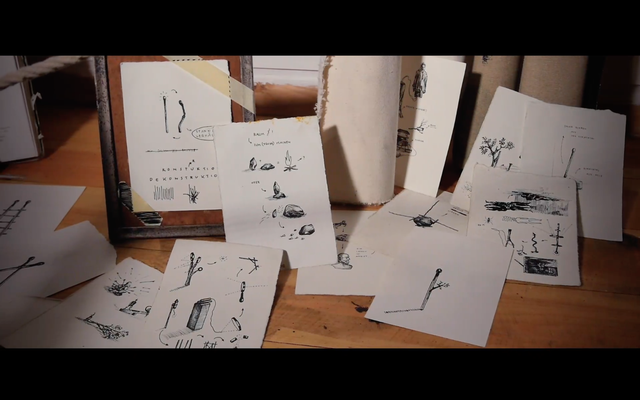 30 min Solo von Kevin Lüdicke  "Atelier"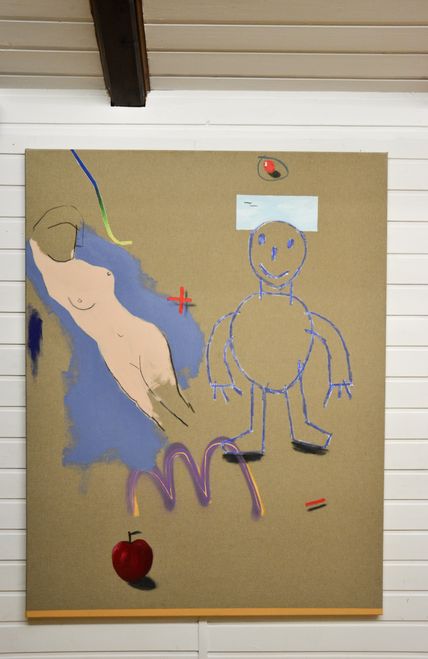 30 min Solo von Björn Heyn "Kinder sind manchmal doof"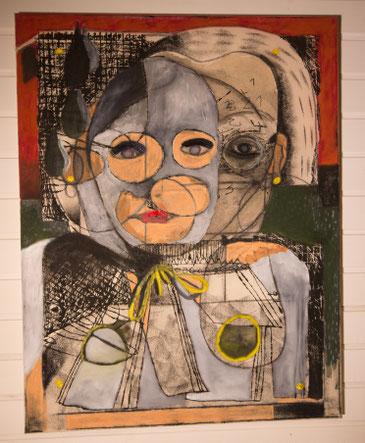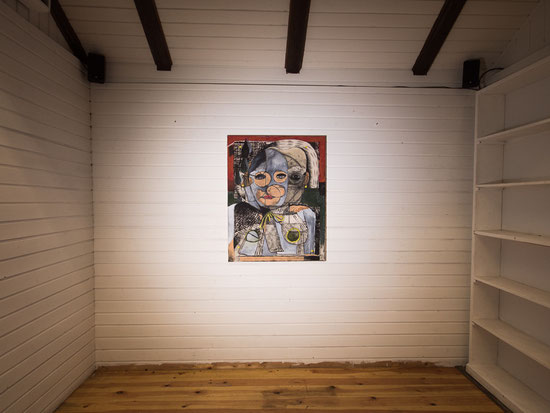 30 min Solo von Ferdinand Döllberg "Zweischichtmaske"
Gruppenausstellung "Facing Realities"
in Zusammenarbeit mit The Art Union e.V
Kuratiert von Phillipp Barth, Björn Heyn, Kevin Lüdicke
Text von Diana Bach 2019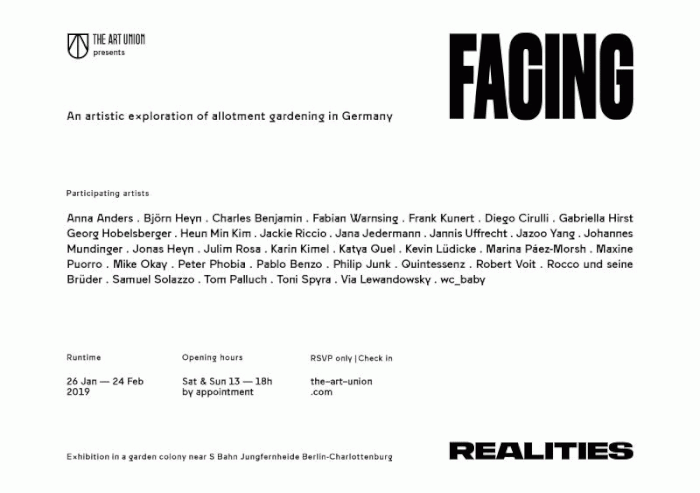 ABOUT 

THE EXHIBITION
In the heart of a garden colony in Berlin-Charlottenburg, the exhibition "FACING REALITIES" explores the dispositif of allotment gardening in Germany by more than 30 contemporary positions. A 300sqm gardening plot which belonged to a family of policemen for 35 years serves as the starting point for the exploration of the sociotope of the interaction between identity and common understanding of the colonists. The perspectives on this phenomena could hardly be more diverse: More than 30 Berlin-based German and international artists aged between 19 and 59 explore this microcosm by incorporating the legacy of the former owners of the allotment garden and put them indoor and outdoor in the context of their respective medium – whether it be painting, sculpture, assemblage, photography, moving images, animation, performance or dance art. Thus, a polyphonic commentary on our times arises between the tension field of deconstruction of tradition and construction of significance.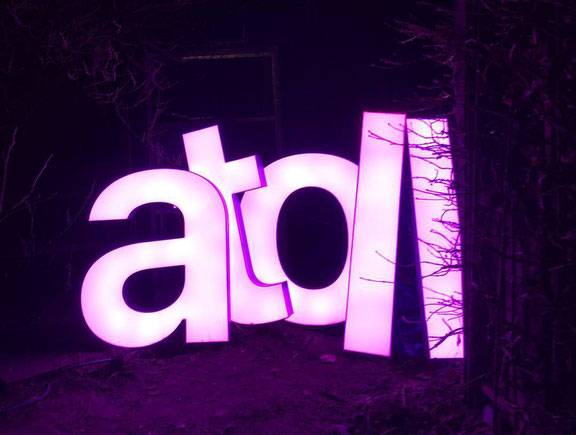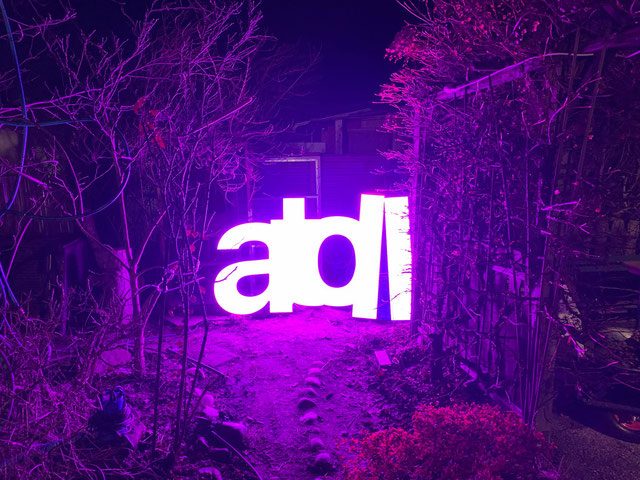 Via Lewandowsky "Atoll" Facing Realities 2019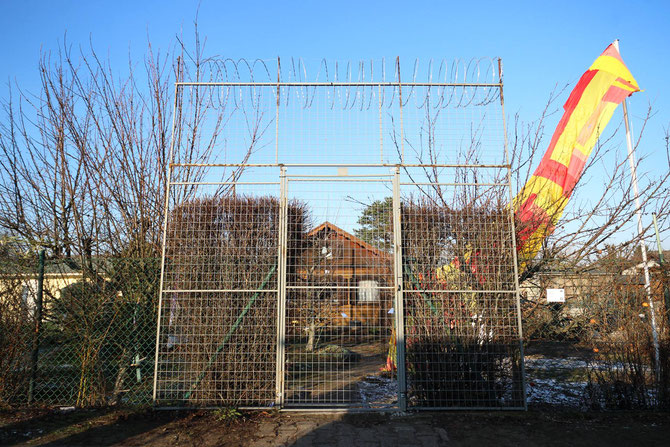 Johannes Mundinger "Buxus" Facing Realities 2019
                 Phillip Junk Facing Realities 2019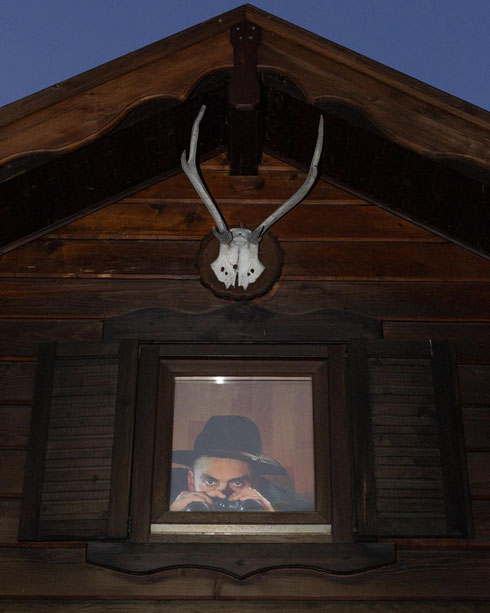 Anna Anders "0n the lurk" Facing Realities 2019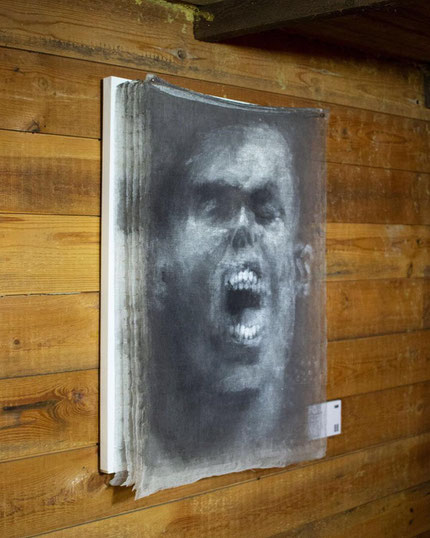 Diego Cirulli Facing Realities 2019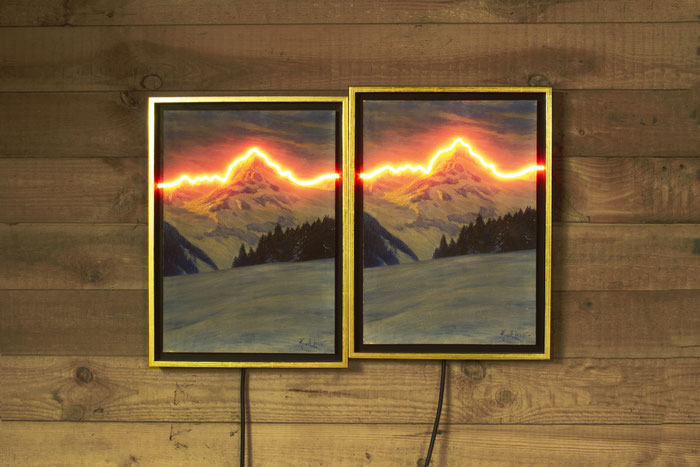 Georg Hobelsberger "Alpenglühen" Facing Realities 2019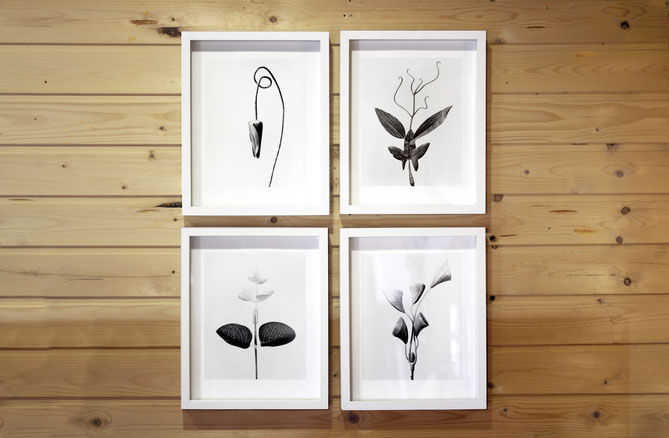 Robert Void Facing Realities 2019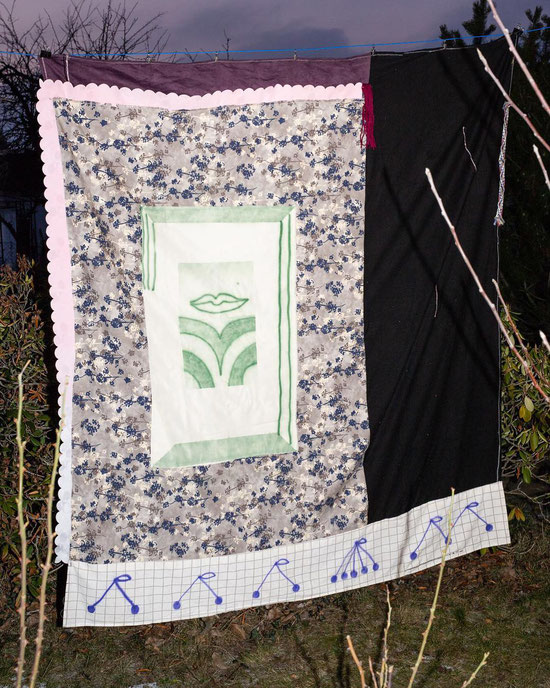 Mike Okay Facing Realities 2019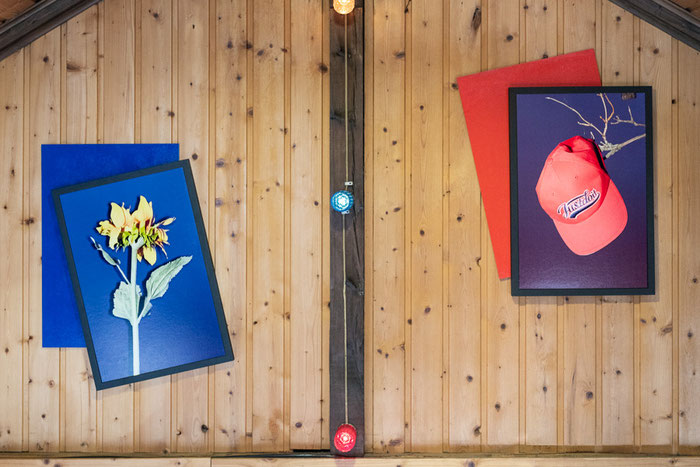 Jannis Uffrecht Facing Realities 2019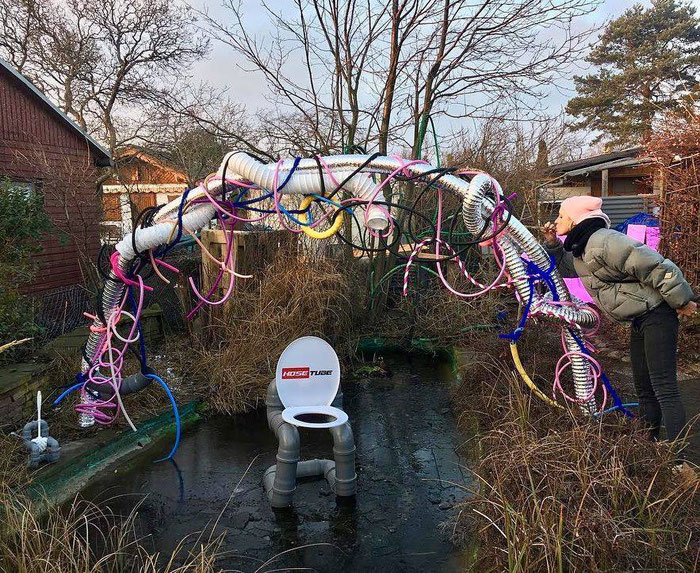 Katya Quel "Tubes" Facing Realities 2019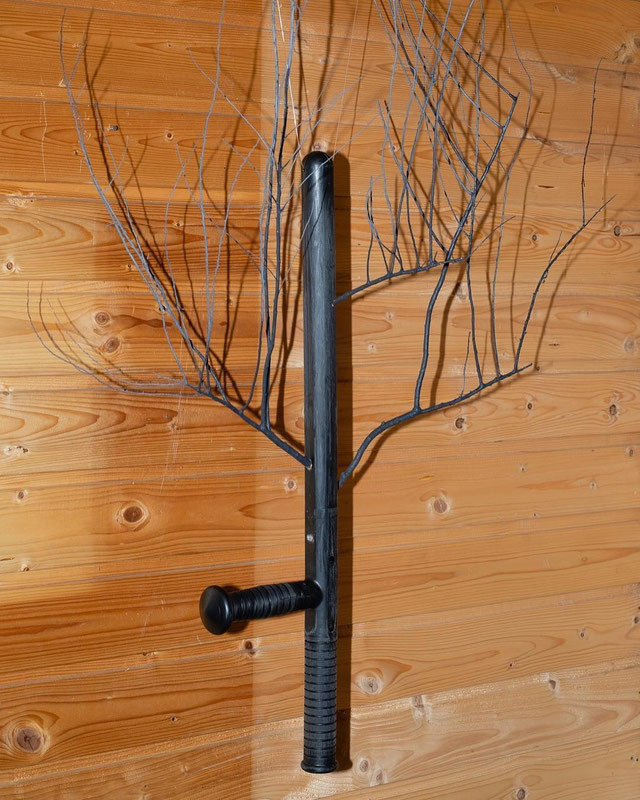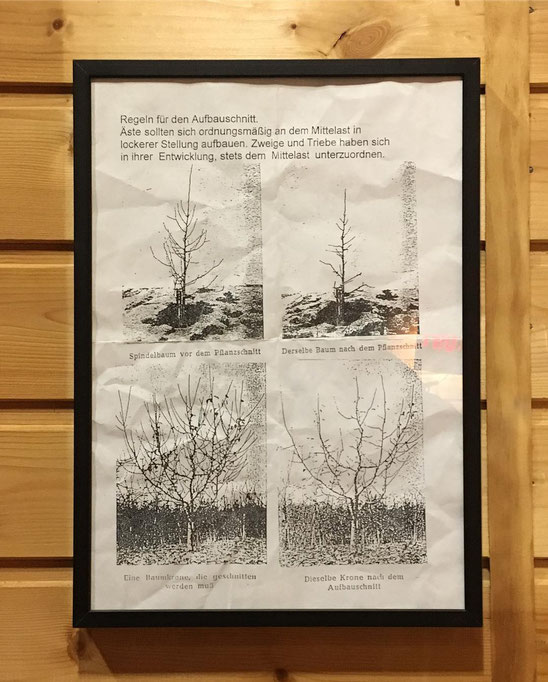 Kevin Lüdicke "Aufruf zum Ungehorsam" Facing Realities 2019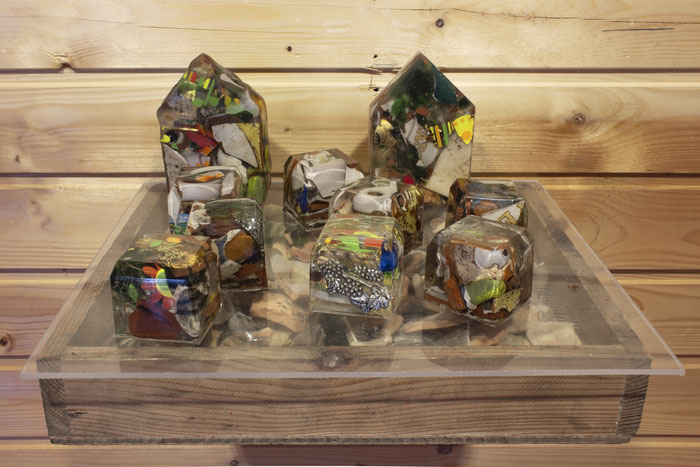 Yazoo Yang Facing Realities 2019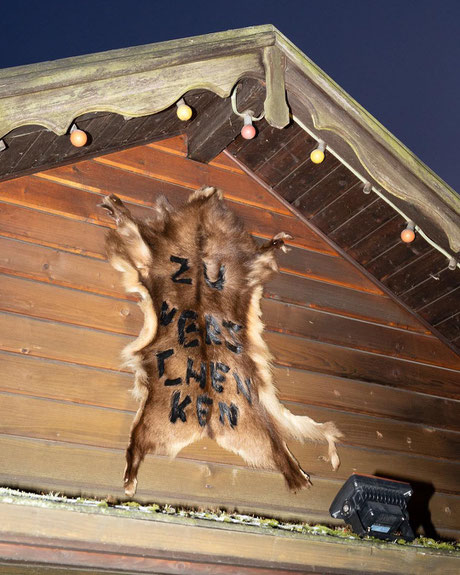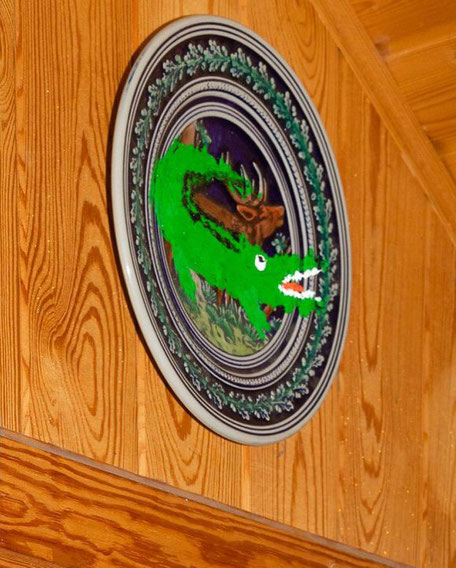 Charles Benjamin Facing Realities 2019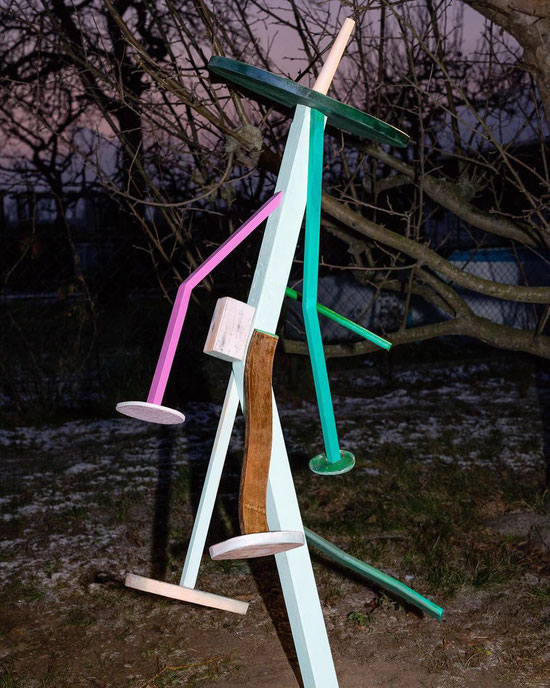 Pablo Benzo Facing Realities 2019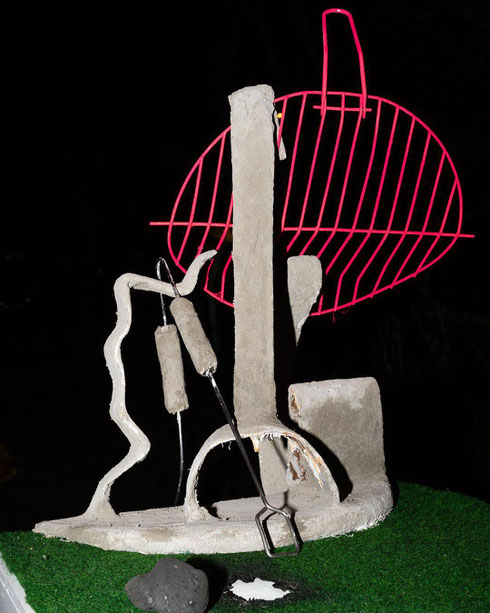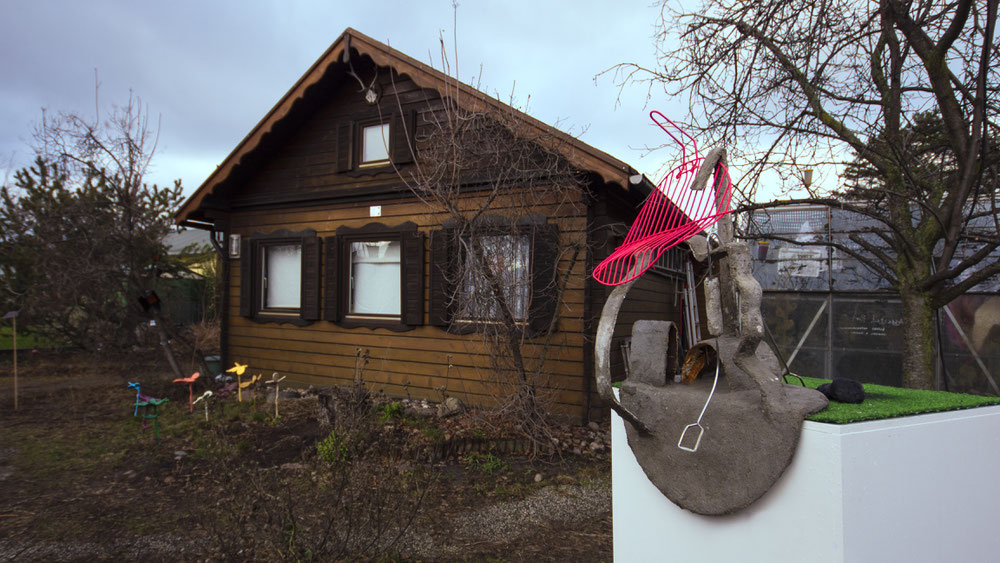 Björn Heyn "BBQ Chief Core 73" Facing Realities 2019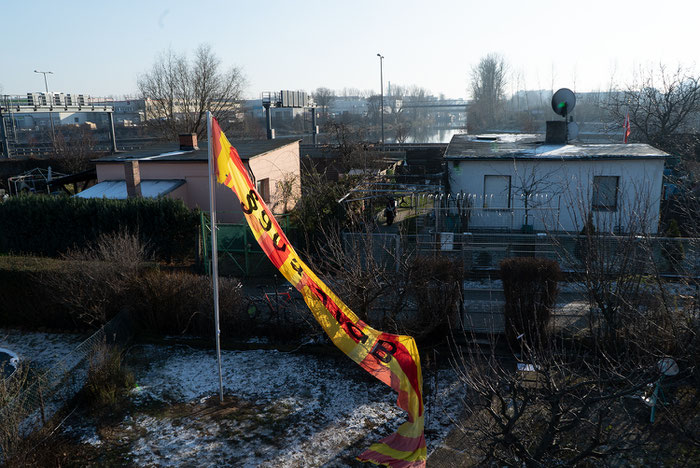 Rocco und seine Brüder "§90a" Facing Realities 2019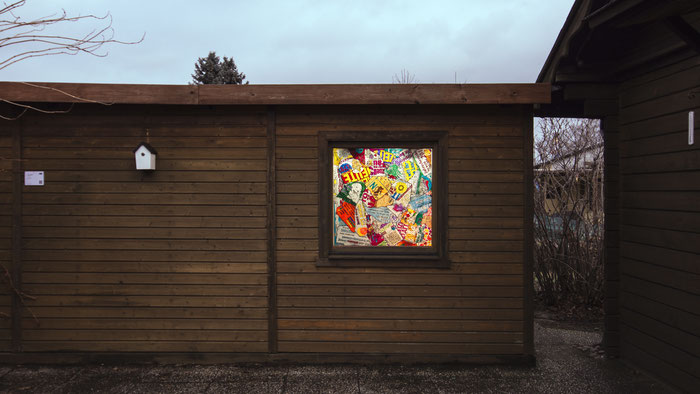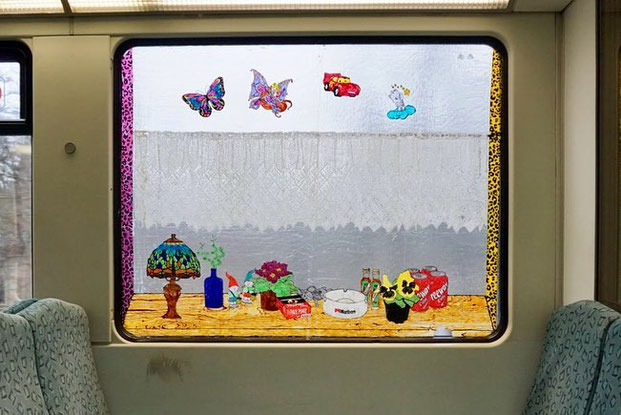 Georg Vierbuchen Facing Realities 2019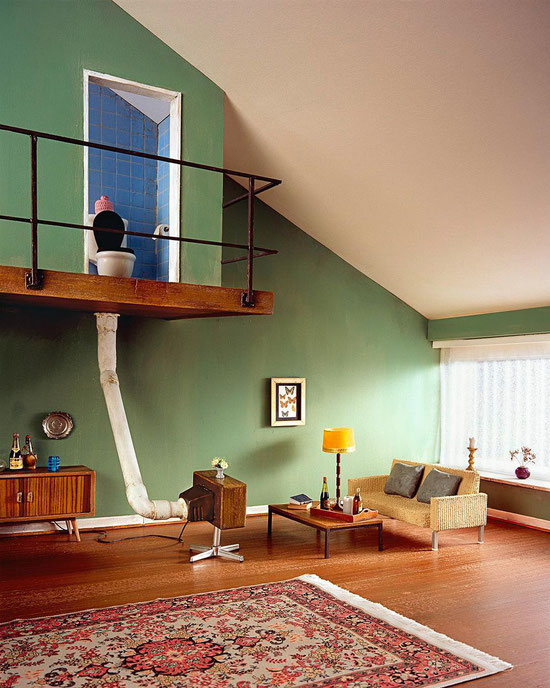 Frank Kunert Facing Realities 2019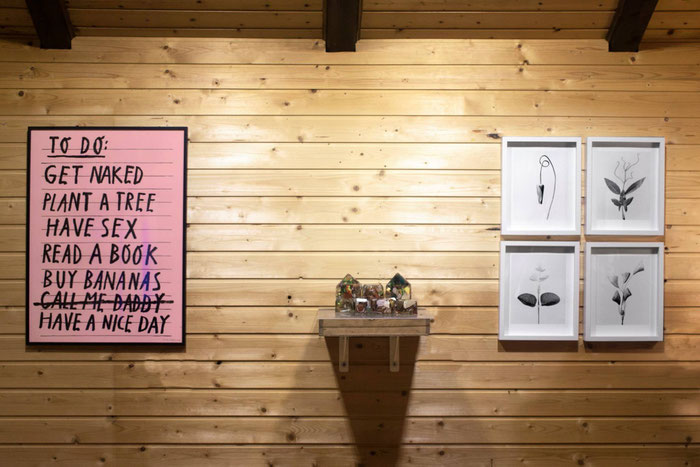 Peter Phobia, Jazoo Yuang, Robert Void, Facing Realities 2019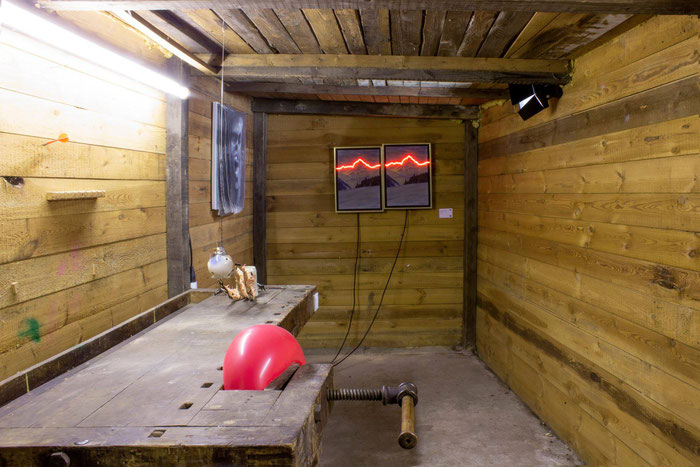 Diego Cirulli, Jana Jedermann, Georg Hobelsberger, Facing Realities 2019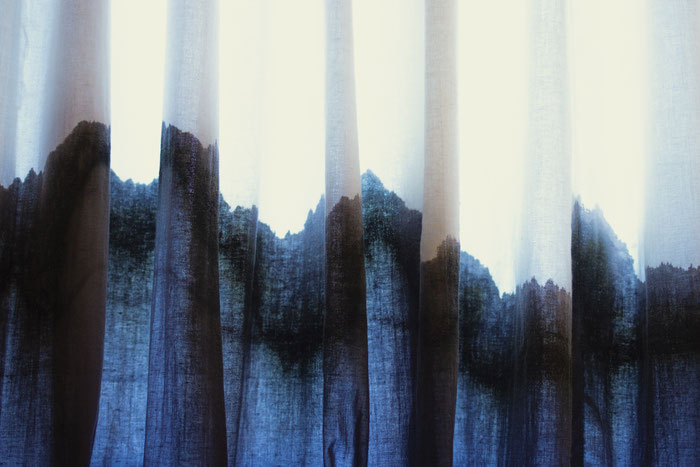 Quintessenz Facing Realities 2019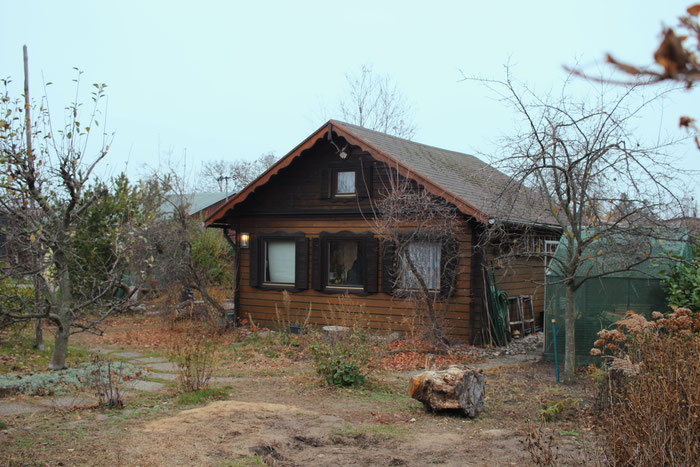 Special Thanks to Jannis Uffrecht & Samual Solazzo for the great Pictures